Snapchat could not refresh is causing a lot of problems in this day and era. Snapchat is one of the most popular social media apps out there. It has everything you can send creative videos and snaps and texts to one another. There is no denying that this is the most popular app among teenagers. Not going to lie we were all intrigued by it once upon a time. Now there is an issue that we all are facing because the app keeps showing a message like could not refresh, please try again and you start thinking about why Snapchat could not refresh.
When the issue arises the user might experience difficulties in sending the snaps and also receiving the snaps. So let's talk about what is causing this problem and how can we resolve the issue of Snapchat could not refresh.
Also Read: How to fix snapchat not loading snaps?
Almost everyone has seen photos of people with dog's ears or heart freckles or flowers floating on their head. I am 100% sure that you all know what I am talking about. That's right, Snapchat. The combination of snaps and texts is what makes this mobile app different from other social media. Snapchat has a special kind of camera so, you can try on a new look with just one tap on the mobile screen. Simply, you can chat with your friends through snaps on Snapchat and send memes for snapchat. With more than 500 million users, Snapchat has become one of the largest networking platforms.
You can download snapchat from here.
Why is this happening to snapchat?
There can be quite several issues why this keeps happening to Snapchat and Snapchat could not refresh. Few reasons can be poor connection it might prevent you from loading the snaps and Snapchat could not refresh.
The most widely recognized is when Snapchat encounters server issues. But whenever the issue arises, a Snapchat user will not be able to send or receive any kind of messages using the Snapchat app.
Below you can see some fixes that will help you in solving the errors that are the reason because of which the Snapchat won't refresh.
How to fix snapchat could not refresh?
Check your internet connection: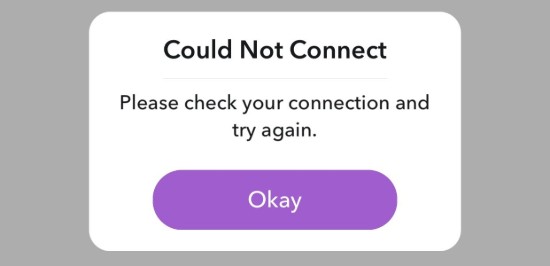 This social media app so many users around 60 million in india. So if you don't have good internet connection be it be WiFi or your mobile internet connection. If you are facing in either of them. If it is WiFi just restart your WiFi or if its your mobile connection just put your phone on flight mode and then back to normal again.
Still if you are still confronting an issue, then it might be due to the limited range of the Wi-Fi router. So to fix this issue, just switch your connection to the mobile data, as mobile data doesn't have any limitation.
Just a simple restart will do fine:
You can just restart your device. By restarting your device you will also restart your WiFi connection and the mobile internet connection and also the Snapchat that might help. That is why if you just restart your device maybe it be android or iOS in many cases this just solves the issue very easily without doing anything you just have to click a button and it's done. I think 70% of people will have this issue solved by this method.
Is Snapchat Down?
If your Snapchat is still not working there might be a chance it's your not fault at all. There might be issues from the Snapchat end also. Because if Snapchat servers go down you won't be able to Snapchat could not refresh. This is because the whole operation is down. So if you want to know about what is happening with Snapchat. There is the site you can visit DownDetector that you can visit by clicking here. It will help you understand what is happening with the Snapchat servers.
If everything works well and you find that it's problem from Snapchat's end, you have to wait for getting the problem resolved on its own. You cannot do anything in case there is an error because of the servers. All you can do is check the status, again and again, to see if Snapchat is working like before or not. If it's down, you have to wait for some more time and check it back again.
You can update your Snapchat?
You might be using an older version of Snapchat? In such cases, you should just update your Snapchat version to the latest. This might help you in solving the issue of Snapchat could not refresh. So you can just go to the above link and update your Snapchat. So the best fix that you use here is just to update your Snapchat to its most recent rendition. You can easily do it from the Google Play Store or iOS Store as per the device you are using.
You can also switch your data connection:
Many times the internet connection is the problem with everyone. So the fix here you can try is just changing the internet connection and see if the is still showing or not. On the off chance that you are getting the steady mistake even with a decent Internet connection at that point please switch your data connection and attempt once more. In case you are using a mobile connection, you must turn it off and switch on WiFi. Or if you are already using a WiFi connection, you can simply go for a mobile data connection.
Clear your snapchat data and cache:
If you have tried all the above methods and still failing. You can always clear your Snapchat data as it may cause Snapchat to crash. You might follow the steps given below to Clear your Snapchat data and cache to fix the issue of Snapchat could not refresh. After you have cleared your data and cache just log in again in Snapchat it will surely fix the issue of your my Snapchat keeps saying could not refresh. Just follow the steps given below:
You can just go to your phone settings.
Then go to apps and notifications and there you can see all the apps on your phone.
You can just find the Snapchat app click on that.
You will option to clear cache and clear storage. Then you should tap on both the option to clear the cache memory and other stored data.
Uninstall and Reinstall Snapchat:
If the problem persists you can also uninstall the app. Then reinstall the app again. You can also download the latest version of Snapchat on your phone to get rid of the issues. Now after installing again you just have to login into your Snapchat and check if your Snapchat is loading and if they just enjoy your Snapchat. This is a method that works most of the time as it gets rid of everything data cache of the older version of Snapchat which might be crashing it. And when you install a new one it starts fresh and new.
Conclusion:
So if your also facing the problem of snapchat could not refresh. Here are some of the methods that you can try to make your could not refresh snapchat problem go away. One of these will surely help you in sorting out your problem. Hope you find your solution here. Thank You for the read.