Ever since Snapchat has been launched, it keeps coming with creative updates. We are discussing one of those in this blog today and that is Snapchat cameos. In this blog, we will understand the meaning and use of this feature and discuss the errors relating to it.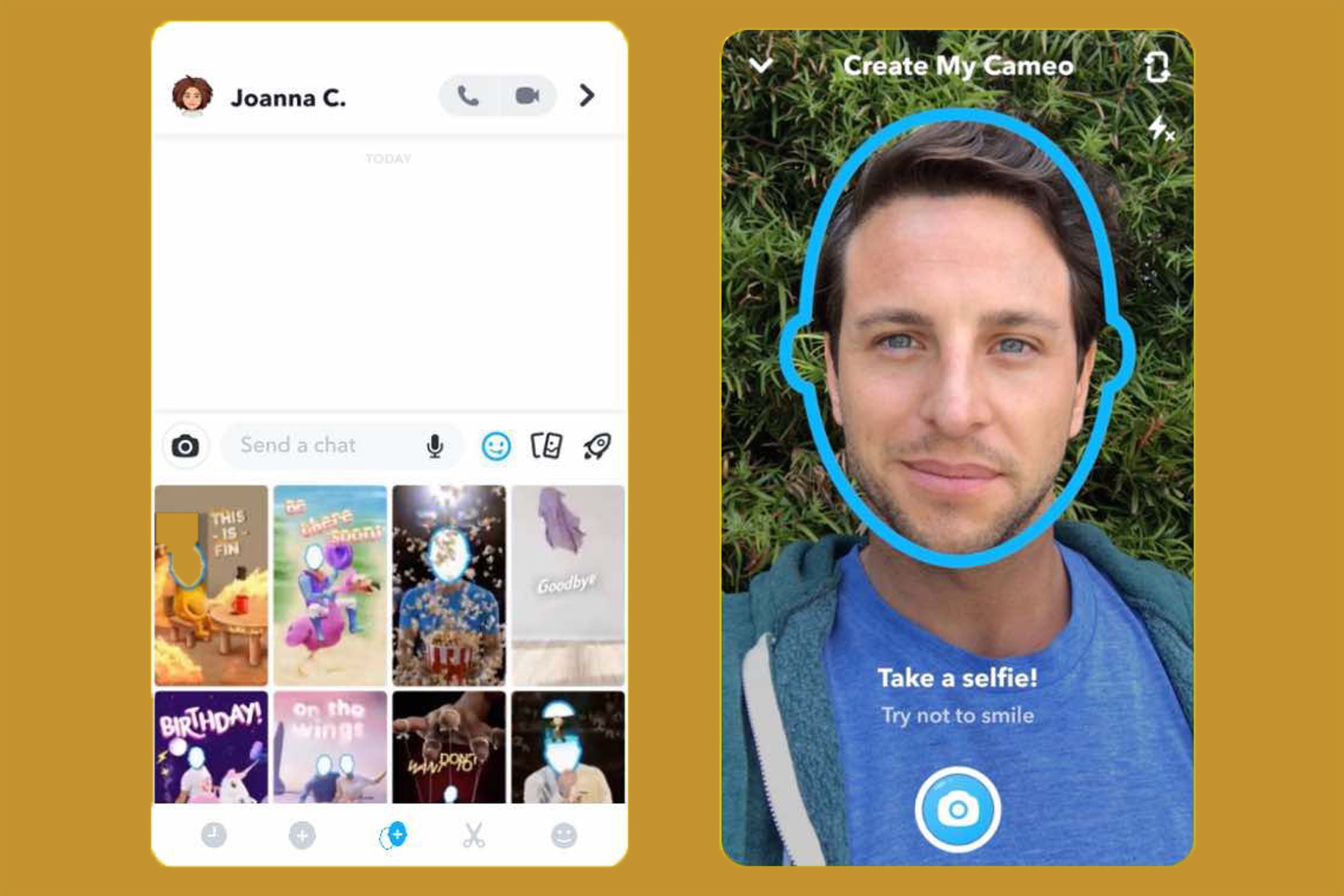 In this new feature, users while making short videos will be able to replace face of the person or animal with user's selfie. And they can share this video as snaps with their friends. But many users are complaining that their Snapchat cameos not working properly and such snapchat cameos not showing up.
Also read: Search Snapchat users by name: Different method
Almost everyone has seen photos of people with dog's ears or heart freckles or flowers floating on their head. I am 100% sure that you all know what I am talking about. That's right, Snapchat. The combination of snaps and texts is what makes this mobile app different from other social media. Snapchat has a special kind of camera so, you can try on a new look with just one tap on the mobile screen. Simply, you can chat with your friends through snaps on Snapchat and send memes for snapchat. With more than 500 million users, Snapchat has become one of the largest networking platforms.
You can download snapchat from here.
How to get Snapchat cameos?
In simple words, Snapchat cameos are animated GIFs that can be personalized by putting your face in it. You can imagine it as a customized and more realistic Bitmoji. Snapchat has provided a wide variety with over 150 video options in which you can add your face. So, it has become a favourite feature for user in a very short time.
Following are the steps to create Snapchat cameos:
Firstly, start by opening a chat box in which you have to click on the smiley face icon. It can be seen on the right of the text chatbox.
You have to select the third icon at the bottom which appears as outline of a face combined with shaded-in plus sign. After doing this, you will come to the Cameo selection screen.
Now choose the one clip you like from the never-ending options!
After selecting you have to follow the steps told by the app and align your face on the screen to take a selfie. Please ensure that you take selfie in good lighting so that the picture which finally appears in the GIF is clear.
So, now your face has been customized in the Snapchat cameos. Lastly, you just have to select the one you want to send to your friend.
Just click on 'Send' to share it with your friends and drop it in the chat.
Changing Snapchat cameos
You are not stuck with the selfie that you chose as you can easily update it. When you are unhappy with the selfie or you just wanna change it to something better then start by navigating back to Cameos menu. It will be done via Snapchat chat box and then choose a Cameo tile. Now you have to tap on bottom of the screen on the option of 'More'. Many options will appear such as "New Selfie," "View Fullscreen," or "Save to Camera Roll." Now you can choose any of the above and take a new selfie or select one from the camera roll. After doing this, you can preview Cameos and also have to option to save it for yourself.
What to do when Snapchat cameos not showing up?
The most basic step is to try updating the app to its latest version. So, that the Snapchat cameos android or on iPhone can show up.
As an alternative option, you can try downloading the beta version of the app which is available on online store.
If your problem is still not resolved then you should go to the settings of the phone and try to solve it by following these steps:
Open the Settings of your phone.
Search for Snapchat in the App Management option.
You will see two options, namely, Uninstall and Force stop. You have to click on the option of Force Stop.
Now you need to go to Storage option of Snapchat and tap on the option of 'Clear Data'.
Lastly, restart your smartphone and after this you problem should get resolved.
You also have the option to install VPN on your phone which will help you resolve this issue.
How can you create a Dual Snapchat Cameo?
You can also create two-person Snapchat Cameos that feature both your selfie and your friend's. Enable this setting when you're first setting up your Cameo, and you'll be able to see the selfies of the people who you are chatting with, alongside your own. To control who is able to use your Cameo selfie once you've shared it, toggle to the Settings icon in Snapchat and select "Use My Cameo Settings." From there, you'll be able to choose who can find, see, and save your precious selfies.
Conclusion
So if your snapchat cameos are not working or you don't have a knowledge of how to use it. We hope you have come to right place because we have provided you with lot of information about them. Hope you find this useful. Thank You for the read.