In the hectic life we have today, our smartwatches are the one helping us to keep up the speed to go through our busy schedules. From bouncing between the gym, work, school, errands, or just chilling, these watches have become an essential part of our life. Spotify introduced an app for the Apple Watch in past years to give you the ability to seamlessly access and listen to your favourite playlists, podcasts and other new things added by it. This blog will tell you all about Spotify on apple watch.
This new app has become an asset to our highly mobile users on Apple Watch. This will give you all an improved experience with better control with an ability to connect to your speakers or devices. It has many exciting feature lined up such as listening to your music and podcasts offline.
Also Read: How to get water out of iphone speakers
More activities—more control
These smartwatches on our wrist gives us an easy access to the world just with a flick of our wrists. Ready to kickstart your daily routine? You can just click Play from your Apple watch and there is no need to take your phone out in hurry. Slow song ruining your good mood? Skip those slow tracks and choose a music that matches your energy. You can also rewind when you miss a part in podcast or while listening to poems. All these tasks have become as easy as checking your notifications. This smartwatch also allows you to become DJ in parties by connecting to speakers and other devices.
Easier access—easier discovery
The integration of Spotify with Apple Watch has made life easy as you can easily access your recently played songs even when your phone is in pocket. Also, by clicking on the ♡ icon, you can save any new song to your collection and keep listening to it. This features comes in handy when you are on the go and you find a new favourite song. Please ensure that you have the updated version of Spotify to use it comfortably with your Apple watch.
Features of Spotify on apple watch:
1. Control over music
You have all the features of Spotify such as you can pause, skip forward and back the music playing. You can do all these from the Apple Watch itself and don't have to use your phone for these small things.
2. Browse songs and playlists
Spotify Apple Watch app allows you to have extensive control straight from the wrist, over playback and selection of music. When you swipe left in the watch, your recent playlists from Spotify account will be shown. After this, you can scroll and choose or change the playlist using your finger.
You also have the option to swap between playlists, podcasts, artists and albums and browse options within the library. Not all the options of the library are available but your recently played 20 or so is surely available. By swiping to right, your selected playlist will be visible and you can select any song you want to play from that playlist.
3. Spotify Connect devices
You can also ping your music by connecting to a compatible device by using a shortcut to Spotify Connect. Some of the devices are Amazon Echo, Sonos speaker, your smartphone etc.
4. Untethered music streaming
This new feature will allow you to use stream music without your iPhone. The functions will remain same as mentioned above but there will be no use of your phone. For instance, when you are out for a jog then you don't need to carry your iPhone for streaming Spotify music. Your Apple smartwatch will be more than enough. This feature is not globally available yet.
5. Addition to Spotify library
Music can be added to your library straight from the Apple Watch screen. As mentioned above, the heart icon needs to be tapped and automatically the track will start appearing in your library. Now just go to the Songs list in your Spotify library and play it whenever you want.
Steps to install Spotify on Apple Watch
Firstly, you need to ensure that you have the right version of the Spotify app. This will work whether you have Spotify premium or not. Secondly, you need to ensure that the Spotify smartphone app is installed on your device and signed in your device. And lastly, ensure that you have Apple Watch with watchOS 4 and above and an iPhone or later running iOS 10 and above.
Download Apple Watch Spotify app: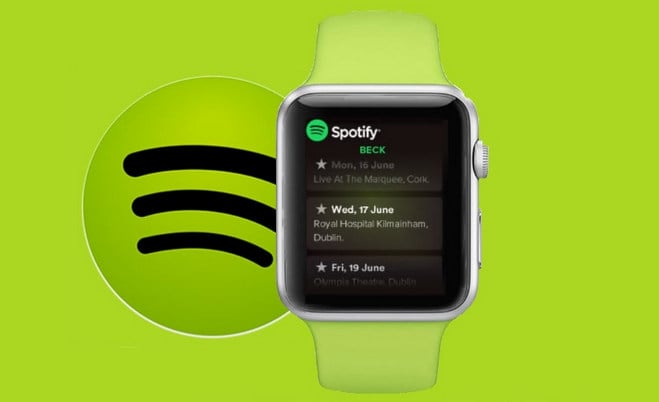 On your iPhone, Open the Apple Watch app.
Now you have to check if Spotify is already downloaded in the 'My Watch' tab. You can check it under the heading 'Installed on Apple Watch'. If the app has not been installed, you can install it by scrolling down to the 'Available Apps' part and click on 'Install' option of Spotify.
Now open the app grid on your Apple watch to find Spotify. Also, when you play music from your iPhone then this app will open in your watch automatically.
Specification of Apple Watch 6 series:
We have created a table that will tell you the latest Apple watch Specifications:
Particulars

Specifications

Network
GSM / HSPA / LTE
LAUNCH
Available. Released 2020, September 18
BODY
Dimensions
44 x 38 x 10.4 mm (1.73 x 1.50 x 0.41 in)
Weight
47.1 g (1.66 oz)
Build
Glass front (Sapphire crystal), ceramic/sapphire crystal back, stainless steel frame
SIM
eSIM
50m water resistant
ECG certified (region dependent SW application; HW available on all models)
DISPLAY
Type
Retina LTPO OLED, 1000 nits (peak)
PLATFORM
OS
watchOS 7.0, upgradable to 7.1
MEMORY
Card slot
No
Internal
32GB 1GB RAM
CAMERA
No
SOUND
Loudspeaker
Yes
3.5mm jack
No
BATTERY
Type
Li-Ion 303.8 mAh (1.17 Wh), non-removable
Special Features introduced in Apple Watch Series 6, Apple Watch SE and Apple Watch Series 3: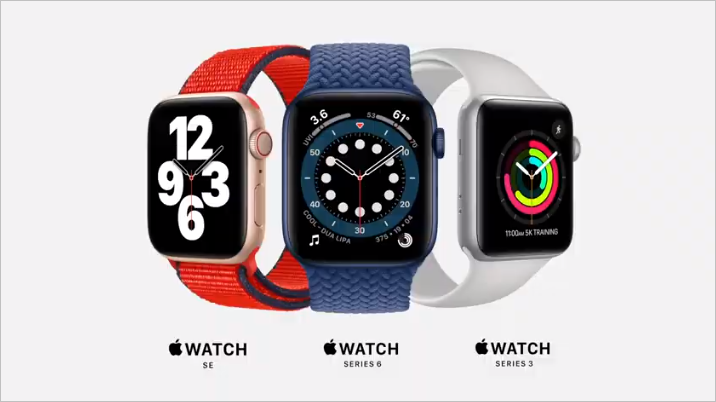 Blood Oxygen app is introduced for the purpose for only only designed for general fitness and wellness purposes.
Wireless service plan is required for cellular service.
Apple music subscription is required than you can have both spotify and Apple music.
Apple Watch Series 6 (GPS + Cellular) and Apple Watch SE (GPS + Cellular) can use a cellular connection for Emergency SOS. To use Emergency SOS on an Apple Watch without cellular, your iPhone needs to be nearby. If your iPhone isn't nearby, your Apple Watch needs to be connected to a known Wi-Fi network and you must set up Wi-Fi Calling.
Irregular rhythm notification requires watchOS 6 or later, and iPhone 6s or later with the latest version of iOS. It is not intended for use by people under 22 years old or those who have been previously diagnosed with atrial fibrillation (Afib). See apple.com/in/watch for compatibility details.
Conclusion:
We have provided you with different options of Spotify on apple watch. And how to download them and the features that spotify provide you on the Apple Watch. And some of the specs of the Apple 6 watch series and then some of the features that you will get on the Apple Watch Series 6, Apple Watch SE and Apple Watch Series 3. Thank You for the read and hope you find what you are looking for here.