Harshad Mehta Scam 1992 is the only thing we have in our mind after watching the tv series so let's talk means we will talk and you just listen and enjoy.There are a few whose name has now become the synonym of Scam in India and the name of Harshad Mehta Scam 1992 is definitely among those. He is charged with the biggest scam in the Indian Stock Market. If we talk in numbers then 24000 cr was the amount which he scammed. It is even bigger than the scams of Nirav Modi or even the famous Vijay Mallya scams. So in this article, we will discuss the nuances of the scam and how Harshad Mehta alone was able to do a scam of this magnitude. You can watch it on the Sonyliv app.
Also Read: Primewire Alternatives sites to watch movies online
The Journey of Harshad Mehta:
Harshad completed his B.Com degree from Lala Lajpat Rai College in Mumbai. He then worked in different companies for few years before his interest took him to the stock market. He then left his job to and worked with several brokers like B. Ambalal, J.L. Shah and Nandlal Seth. He then went on to work with Prasann Panjivandas in the 1980s to whom he also considered as his guru. After having learnt the tips and tricks of the stock world he opened his own brokerage firm with his brother by the name GrowMore Research and Asset Management in 1984.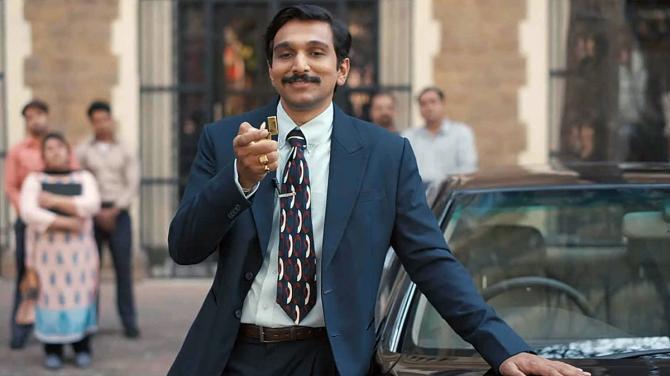 Within a couple of years he rose to prominence and was seen as a big player in that field. He earned himself quite a nicknames like 'Amitabh Bacchan of Stock Market' and 'Big Bull'. He also earned quite a handful for himself and publicly boasted his luxurious apartments and his top brands cars.
What was the Harshad Mehta Scam 1992?
Before getting on to that we have to understand was the prevailing market situations then. Governments need money to complete their projects for which it issues Government Securities which are purchased by banks in return for certain interest that they get on these securities. When banks want urgent cash they sell these G-Secs to other banks as a collateral and take money and then after the specified period return the cash with interest and collect back their G-Secs. This is known as Ready Forward Deal (RFD). In a nutshell these RFDs are a short term money borrowing instruments for the banks. For this purpose the Banks needed brokers to get them what they needed. And for doing this transaction bank gave each other a Bank Receipt so confirm the transaction.
Harshad Mehta was also such a broker who used to negotiate deals between banks. But there were several loopholes in this process which Harshad knew very well and he exploited these loopholes to his interest.
Some Interesting FAQ's – Harshad Mehta Scam 1992 !!
Who is Harshad Mehta?
Harshad Mehta was an Indian Stock broker and was known as the big bull of Dalal Street. He was born on 29th of July 1954 in a poor family in Rajkot District in Gujarat. His father was peon. He migrated to Mumbai with just Rs40 in his pocket. In 1976 he somehow managed to complete his graduation in commerce from Lala Lajpat Rai College, Mumbai. After completing his graduation, he worked in some companies for couple of years.
While working as a sales person in New India Assurance Company Ltd. he developed the interest in Share Market and hence after quitting his job in early 1980's, he joined the Stock broker B.Ambalal. Later 1981 he worked as sub-broker to stock broker J.L.Shah and Nandalal Sheth. After gaining ample of experience, in 1984 he with his brother, started his own firm named as Grow More Research and Asset Management. Later, he became the member of Bombay Stock Exchange as a broker.
In 1986, He started trading actively. By early 1990, he became a famous stock broker and a number of eminent people began to invest in his firm, and utilize his services including the then minister P.Chidambaram through Chidambaram's own shell companies.
Where is Harshad Mehta's family?
Harshad Mehta's son Atur Mehta bought a significant stake in Fairdeal Filaments, a BSE-listed textile company. The Income Tax tribunal scrapped almost the entire tax demand of Rs 2,014 crore on late Harshad Mehta, his wife and brother in the year 2019. In the same year, Harshad Mehta wife, Jyoti Mehta won a case against stockbroker Kishore Janani and Federal Bank who owed Rs 6 crore to Harshad Mehta since 1992, stated that Jyoti was entitled to receive the entire amount with 18 percent interest.
On the other hand, Harshad Mehta brother, Ashwin Mehta, pursued a degree in law. He is a lawyer practising law in Mumbai High Court as well as Supreme Court. Ashwin Mehta fought several court cases single-handedly.
What is Harshad Mehta Son doing now?
Harshad Mehta son Aatur Harshad Mehta is the promoter of a textile company fair deal textile his name came into news when he bought around 1.45 M shares at 47.8 Rs/ share of this textile company along with his partner. Aatur is now working in stock market as he got this talent from his Uncle Ashwini and his dad Harshad. Harshad's brother Ashwini in a lawyer nown and practicing in Bombay High court while his son is involved in stock market for bread and butter.
Where is Ashwin Mehta now?
Ashwin Mehta was born at Paneli Moti, Rajkot district in a Gujarati family. His early life was spent in Kandivali, where his father ran a small-scale textile business. Later, the family moved to Rajpur, Madhya Pradesh, where Ashwin received his schooling at Holy Cross Byron Bazar School alongside his brothers, as detailed by Dreshare. Ashwin's net worth is reported to be approximately 25 to 30 crore as per Dreshare.
Who was Swamiji from Scam 1992?
In case you are wondering who was the swami in Scam 1992, it was Chandraswami the self-styled godman who became famous of his close connection with Narasimha Rao. In 1991 as Narasimha Rao became the PM, Chandraswami built an ashram in Delhi on the land allocated by Indira Gandhi. This swami is well buried political secret of India.
Do you feel bad for Harshad Mehta after watching scam 1992?
These questions about Harshad Mehta (HM) are popping up after the release of web series SCAM 1992. Before that only trader and investor community knew about HM. It is quite surprising that people actually started seeing HM as "Superhero".
Let me ask few questions to readers. Is printing fake BR receipts or manipulating penny stocks or bribing top officials of PSB and PSU are legal in India or anywhere else? The answer should be "NO". The money that he got from all this sources he used it to pump the markets. With all the profits he made from illegal sources of money he came to fame.
But despite all his wrong doings one can learn many things from him especially ones who belong to middle class family. HM was born in a lower middle class family. It was his burning desire to get out of the middle class category. And in the process he failed many times, almost went bankrupt but he still didn't give up. From his journey of zero to hero he started from scratch and with no financial backing. In 1991 he was the highest taxpayer of the country. One can learn from his life that no matter where we are today we can overcome all the hurdles and achieve all our dreams only thing that matters is how desperately we want it.
But what makes me sad about HM is that he was used as the scapegoat in the entire scam. He was just a broker initially. And for a scam worth 5000 Cr to take place is not possible with involvement of just one broker. Many top officials were involved which only HM knew about. Others were spared or no investigation took place.
How did Harshad Mehta Tricked Banks?
Suppose there are multiple banks. Bank A needs to sell G-Secs, and Bank B needs to buy them. Harshad Mehta would take these G-Secs from the bank A and would ask for some time to search for a buyer, and then take cash from Bank B and here also ask for some time to search for a seller. In the meantime, he would keep both G-Sec and the Money with him
Why the banks gave him cash?
Yes indeed, you are completely right and even there was a guideline issued by the RBI that the bank's cant issue cheques in the name of brokers but it has to be in the name of the Bank from where you are purchasing the securities. But Harshad would insist the banks to issue the cheque in his name and not otherwise. Since he had such a big reputation the banks also surrendered to his demands.
What did Harshad Mehta do with all the money?
He would invest all the money in the share market to increase the price of any share or to distort the market for his own good. And when the bank A asked him for his money of the G-Secs he would go to another bank which were in search of securities and take their money and ask them for some time. In the meantime he would give the money to bank A and kept tis process on repeat.
How did Harshad Mehta gain from manipulating the stock market?
Suppose he invested heavily in share of any company, due to this the value of that share keep increasing and this created a false image for that share amongst the common public, who would now be lured in buying the share of that company. This created a cycle by which the value of the company's share kept on increasing. Harshad would now choose a desired time which suits him and then sell his shares at higher rates and bag all the profits. Keeping aside his handsome profits he then returned the cash to banks and receives his fake securities. This cycle kept on going.
How did the scam 1992 came out?
Like every business which goes in different business cycles in different times like boom, slowdown, recession etc, the Stock Market also went in a slowdown phase and the prices of the share dropped significantly. This made a huge loss for Harshad Mehta and he was unable to return the cash take form the banks on time. During this time only a journalist named Suchita Dalal wrote a column in Times of India in April 1992 and kept everything related with the modus operandi of Harshad Mehta open in the public. The banks now also came to know that the Securities in which they were trading were fake.
How much the Bank lost in the Harshad Mehta Scam 1992 Scam of 1992?
It estimated to about 3000-4000 cr that time which was a huge amount. With this the stock market also faced a huge fall. So the impact of this scam on the share market was nearly a trillion Rs. Many people even committed suicide including the chairman of Vijaya Bank.
Was Harshad Mehta wrong?
"Alright, so many people didn't understand as to what Harshad did that was so wrong and caused such a huge collapse. Not blaming because even I had some difficulty understanding it the first time. For them, it is a very simplified version of events and why the stock market crashed. It's not all facts, but more as to why it was so harmful, so please no fighting in the comments-
A stock market has two players who make huge money- a bear and a bull- but their methods are polar opposites.
A bear is someone who has enough money to tide over a stock market crash already, so the method they use is to cause a market crash, buy underpriced stocks and wait for the market to return to normalcy. In this way, suppose a stock's original value is 5 Rs, due to a market crash, the bear gets it at 2 Rs. Even if the original value of the stock was to return, a 3 Rs profit was made by the bear. This is usually done by flooding a particular company's shares into the market, causing mass panic and resulting in people selling their stocks rather than buying. The supply demand chain is tampered with more supply than demand, resulting in lower share prices.
A bull is the exact opposite. A bull is someone who raises a stocks value up by buying it, resulting in a further demand and causing its value to soar. This is usually done by buying as many shares as possible of a company, thereby creating a demand for it and thus causing its value to increase. In this case, the supply demand chain works the other way, with more people buying than selling, resulting in high share prices.
Now, assume the share market to be a single line at normal 0. In a usual market crash, say, the bears bring it down to -4. This results in a loss of -4 for the market. However, due to a bull's activity, the value of the market is not 0, but is raised considerably (known as a bull run), let's say to a 10. Due to this, even a regular market crash will drag it down to not -4, but -14 points, which is much more drastic than -4.
Mehta's method for scamming caused a massive collapse in both the share and the money market. Now one might wonder, what is the difference?
The share market is where companies trade their shares while a money market is where banks trade securities. A money market is also worth way more than a share market as it involves the entities making the money itself- the banks.
Harshad used the money he got from the money market as securities and invested them in the share market. This resulted in a massive boom in the share market, with unprecedented buying and less selling, resulting in the bears not getting much.
The main fault with this was the fact that it needed to be continued. Due to Mehta, massive inflation took place, resulting in a 2 Rs stock being sold for 2000 Rs. This could not be continued for long as no one had that much funds- resulting in a severe market crash.
When the market crashed, people started selling but this time, even the bears didn't buy the overvalued stocks easily as they knew it wouldn't rise again. Thus, the market was flooded with people trying to sell and no one buying. This also resulted in the money market to collapse due to their involvement in the securities scam- where they gave money to a broker rather than another bank directly. With the stock market and the money market both down, simply no one had money. This also caused reputed organisations like the UTI to collapse and mass suicides by people who lost their everything in the share market."
A continuation of the same posted in the comment link below-
"See, a bear buys undervalued stocks of companies that are bound to rise later, usually of reliable old companies. With the inflation, it wasn't the price of all the shares that rose- it was the prices of those shares which Harshad bought in majority. Since their prices rose exponentially, the market value also grew. In an example- say 5 students of a class get 50 marks. So the average is 10. But if out of those 5, four score 50 and one scores 100, the average will be 60. It's kind of like that- the average becomes the value of the market. Now, the shares the bears already had did not include the ones Harshad invested in- as such, their prices didn't rise much. They also couldn't get the shares Harshad invested in because due to profits, no one was selling them. This resulted in losses for the bears because with the stocks they had, they weren't getting as much profit and in order to keep the reliable stocks, they needed to pay out of their own pockets, which were difficult. The bears also believe in mass buying- buying large amounts of shares which is not possible if the share values are high- as in that situation it would be heavy on their pockets and usually no one sells a high value stock. Also, when the value of the market rises, it becomes more expensive to keep any stock in general- for each day you keep a stock, you need to pay an amount to keep it in your account to the market. Due to inflation, the value of the bears stocks didn't increase, but due to the value of the market itself increasing due to Harshad's activities, the bears had to pay a larger amount to keep the stocks they already had. Of course if the market itself was down, that cost would also reduce considerably. It was due to these reasons that bears suffered a loss due to Harshad."
All credits to the original author on the YT trailer Varsha Venkat. I was able to understand the series so much better due to the comments she gave.
To sum up- Harshad Mehta was wrong- but he wasn't the only one who was wrong.
Harshad Mehta Scam 1992 web series watch online free?
In this world nothing is free but the internet is here as a blessing to us as there are few websites where you can find Harshad Mehta Scam 1992 for free. Here are some of the sites:
1: Uwatchfree
2: Popcorn Flix
3: TubiTV
4: Pluto TV
5: CONtv
How much the Bank lost in the Harshad Mehta Scam 1992 Scam of 1992?
It estimated to about 3000-4000 cr that time which was a huge amount. With this the stock market also faced a huge fall. So the impact of this scam on the share market was nearly a trillion Rs. Many people even committed suicide including the chairman of Vijaya Bank.
Conclusion:
The problem with contemporary history is that you end up comparing the reel life with real life. Harshad Mehta was much different from what a bright Pratik Gandhi looks like. Yes, Gandhi's character stands out for his good acting, and so does actor Shreya Dhanwanthary who plays Sucheta Dalal.
In the end its our views and perspective about the Man who had the greatest mind to scam the entire nation. Some call him the bad guy for some he was the Amitabh Bachchan of the stock Market. So here we bring you some of his story and some important questions that might have intrigued your curiosity after watching the Harshad Mehta Scam 1992. Thank You for reading this.